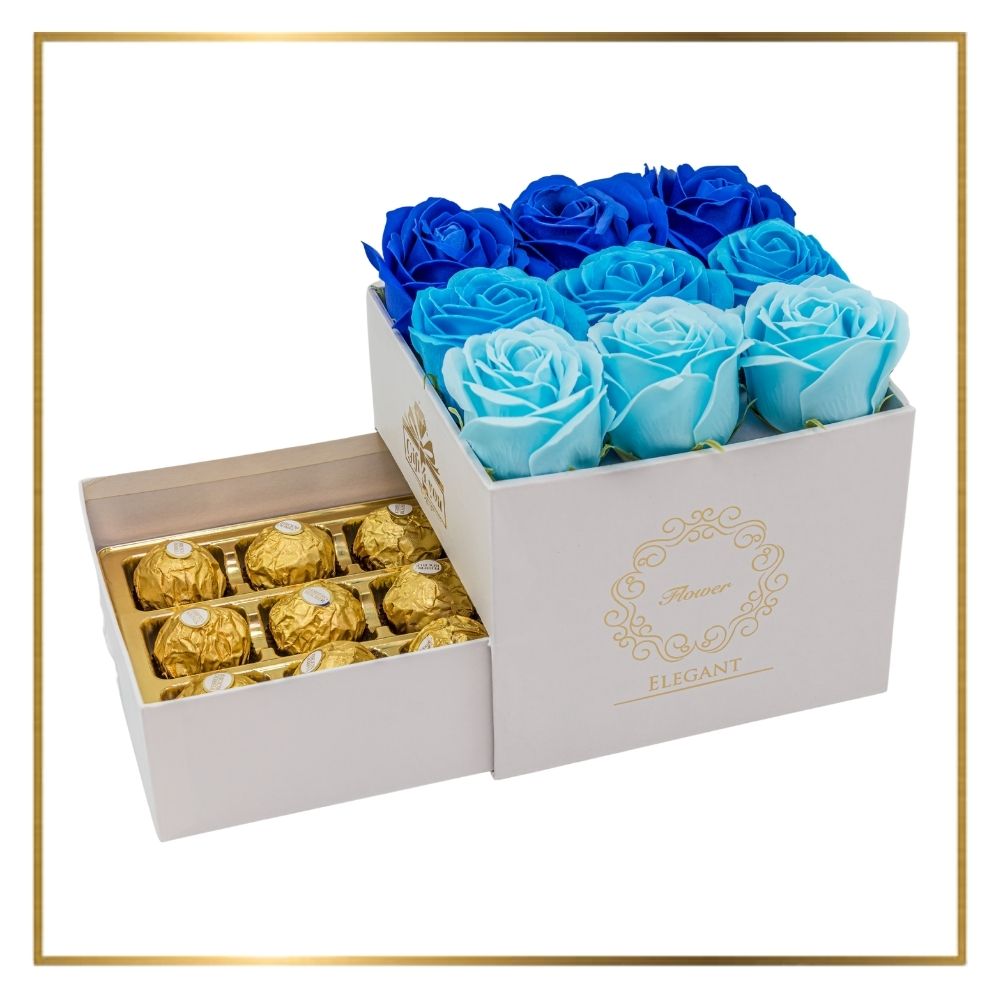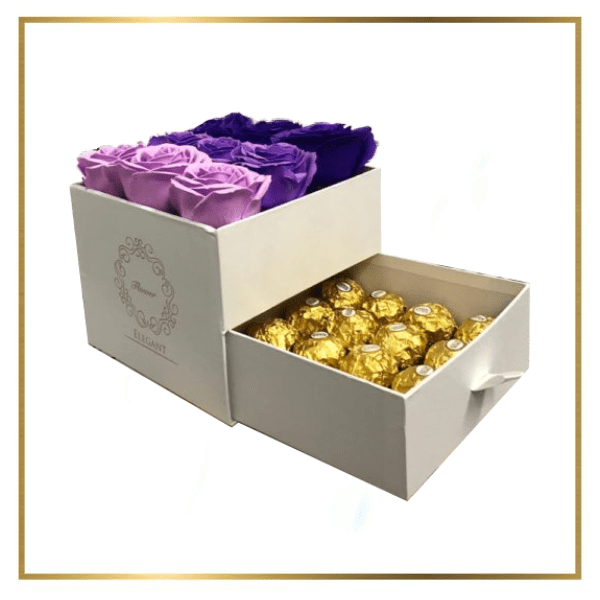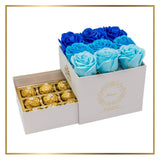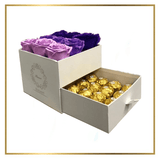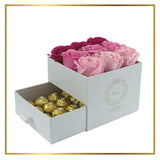 $74.99
Regular price
$99.99
You can read more about our flowers Here!
Free shipping on orders over $50
Description

🌹 Introducing our enchanting "Rainbow" gift set, a perfect expression of love and romance. This extraordinary gift features 9 handcrafted, everlasting decorative soap roses in four vibrant colors: red, blue, pink, and purple. With a touch of sweetness, it also includes 12 luxurious premium Ferrero Rocher chocolates, making it a delightful surprise for your special someone.

🎁✨ The "Rainbow" gift set is meticulously arranged in a special one-of-a-kind design that will leave your loved one in awe. Each decorative soap rose is handcrafted with care and precision, ensuring their everlasting beauty. The combination of vibrant colors represents the joy and vibrancy of love, making it an unforgettable gift for any occasion.

🌹❤️ The "Rainbow" gift set is more than just a gesture; it's a symbol of everlasting love and thoughtfulness. The exquisite craftsmanship of the decorative soap roses and the decadent Ferrero Rocher chocolates make it a truly remarkable and memorable gift.

🌟💕 Imagine the look of surprise and joy on your loved one's face when they receive the "Rainbow" gift set. The breathtaking arrangement of vibrant decorative soap roses in four stunning colors creates a mesmerizing display, symbolizing the depth of your love and affection. The addition of the luxurious Ferrero Rocher chocolates adds an element of indulgence and delight, making it a complete sensory experience.

🌹 The "Rainbow" gift set is perfect for any occasion, be it Valentine's Day, anniversaries, birthdays, or simply as a way to express your love and appreciation. It's a gift that transcends words and touches the heart of your beloved, reminding them of the beautiful spectrum of emotions you share.

💌❤️ Make a lasting impression with the "Rainbow" gift set. Its combination of everlasting decorative soap roses and premium Ferrero Rocher chocolates is sure to captivate and delight your loved one. Order now and let this enchanting gift be a testament to your love, creating a cherished memory that will be treasured forever.
Package Dimensions:

Length: 6 inches
Width: 6 inches
Height: 6 inches
Weight: 1 pound
Product Care

Do's:
* Keep Away from Direct Sunlight
* Store Properly
* Gently Clean
* Rotate Display (If On Display)

Don'ts:
* Avoid Water
* Don't Bend or Fold
* Stay Away from Extreme Temperatures
* Avoid Harsh Chemicals
* Don't Pull Petals