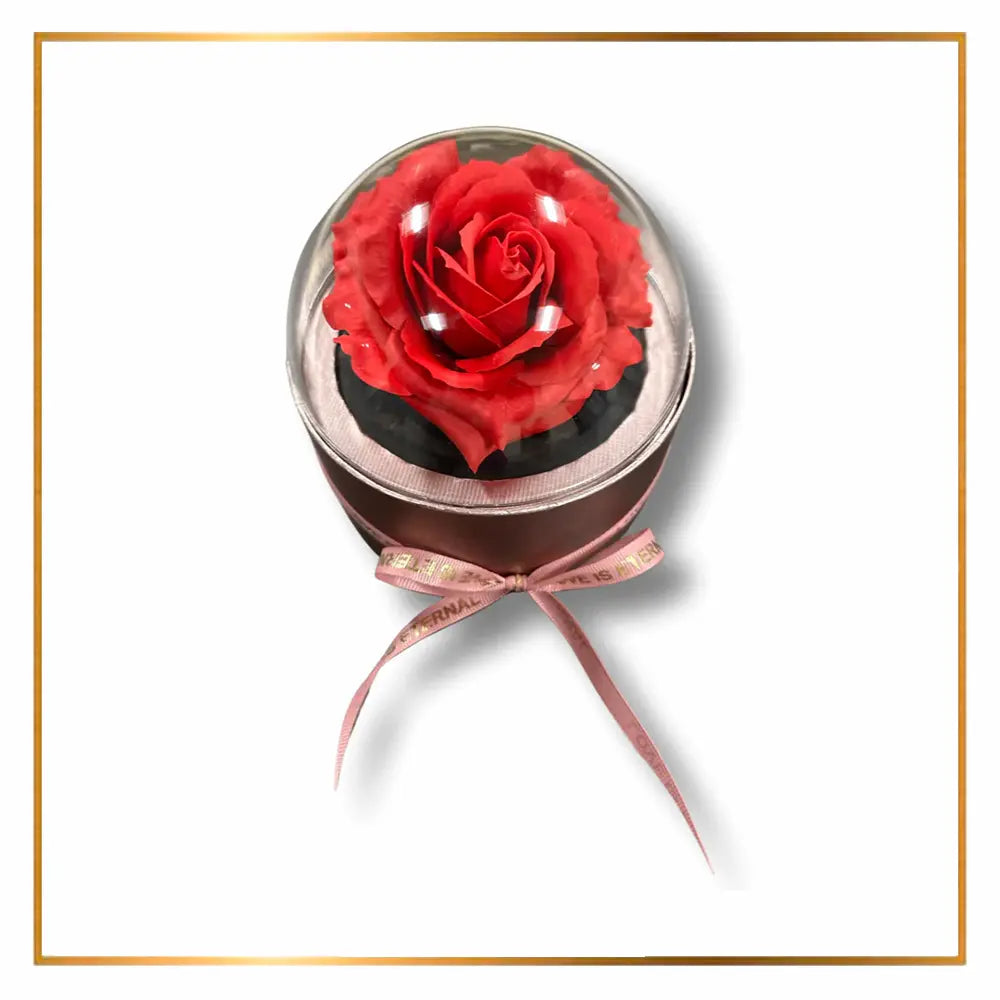 $39.99
Regular price
$69.99
You can read more about our flowers Here!
Free shipping on orders over $50
Description

💖🌹 Prepare to be enchanted by the mesmerizing beauty of our "Heart Shape Rose" gift. This extraordinary creation combines elegance and romance, making it the perfect gesture for any special occasion. With its captivating design and exquisite craftsmanship, it's bound to steal hearts and leave a lasting impression.

🎁✨ The "Heart Shape Rose" features a single handcrafted, everlasting decorative soap rose, delicately nestled inside a glass dome. The red rose symbolizes love and passion, while the glass dome provides a protective enclosure, preserving its beauty for years to come. The chrome pink base and ribbon add a touch of elegance, making this gift truly remarkable.

🌹❤️ The "Heart Shape Rose" is a true work of art that encapsulates the essence of love. Its unique arrangement evokes a sense of enchantment, as the rose appears suspended in time, forever frozen in a moment of pure beauty. This gift serves as a tangible representation of your deep affection and adoration.

🌟💕 The "Heart Shape Rose" is more than just a decorative piece; it's a symbol of an eternal bond. Whether it's a declaration of love, an anniversary gift, or a gesture to show appreciation, this exquisite creation will touch the heart of your special someone. It serves as a reminder that love knows no bounds and that your affection is everlasting.

💖🌹 As you present the "Heart Shape Rose" to your beloved, watch their eyes light up with joy and admiration. The delicate glass dome and the radiant red rose create an enchanting display that is sure to capture their heart. It's a gift that transcends words, expressing your emotions with grace and beauty.

💌❤️ Make every occasion truly special with the "Heart Shape Rose" gift. Order now and witness the magic unfold as your loved one receives this remarkable symbol of love. It's a gesture that will leave them mesmerized and wanting to cherish this precious gift forever.
Package Dimensions:

Width: 5 inches
Height: 5 inches
Weight: 1 pound
Product Care

Do's:
* Keep Away from Direct Sunlight
* Store Properly
* Gently Clean
* Rotate Display (If On Display)

Don'ts:
* Avoid Water
* Don't Bend or Fold
* Stay Away from Extreme Temperatures
* Avoid Harsh Chemicals
* Don't Pull Petals