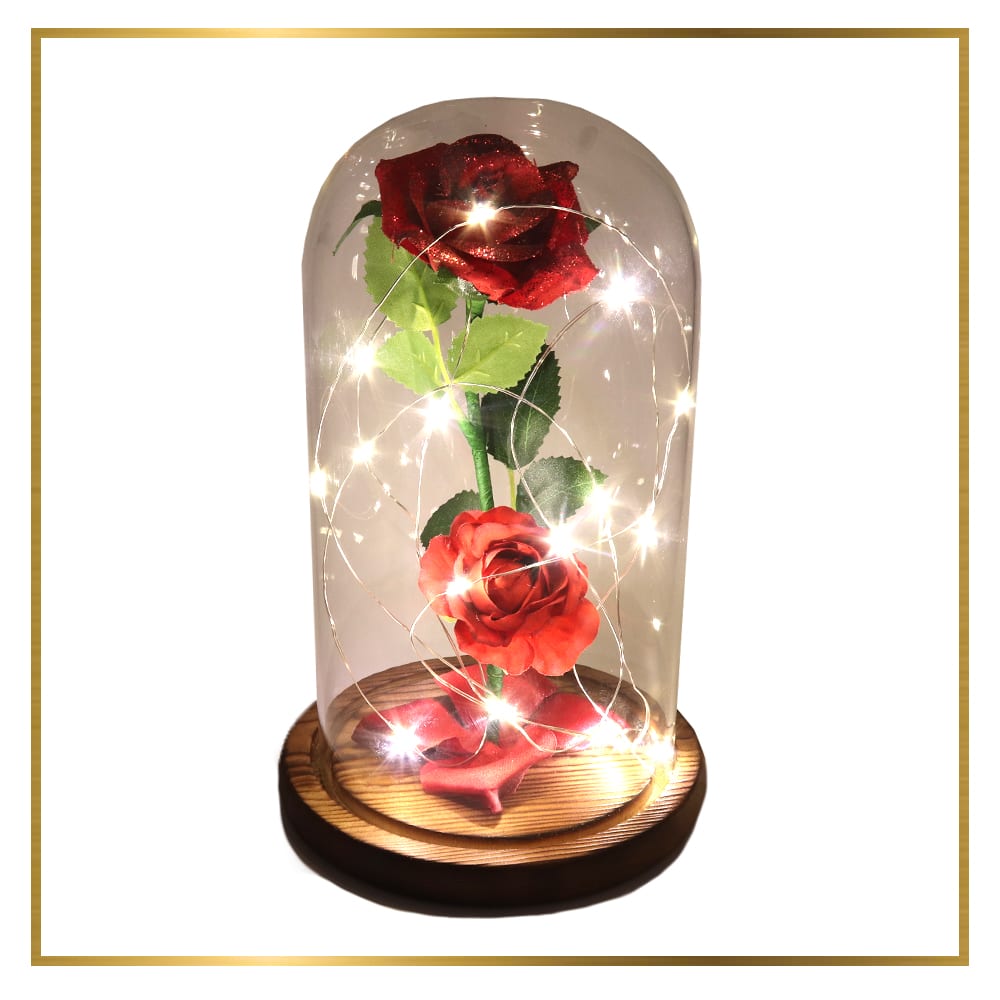 $99.99
Regular price
$129.99
You can read more about our flowers Here!
Free shipping on orders over $50
Description

✨✨✨ Step into a world of enchantment and relive the timeless tale of love with our extraordinary offering: "Beauty and the Beast." Prepare to be captivated by the allure of this exquisite gift that will transport you to a realm where romance knows no bounds.

🌹 Behold the centerpiece of this magical creation: a handcrafted, everlasting, decorative soap rose. Inspired by the iconic red rose from the beloved fairy tale, "Beauty and the Beast," this radiant bloom symbolizes eternal love and captures the essence of a timeless romance. With its delicate petals and exquisite craftsmanship, it is a true work of art.

💡 Immerse yourself in the enchantment of our "Beauty and the Beast" arrangement. Encased in a glass dome, the red rose comes alive with the soft glow of LED lights, creating an ethereal ambiance that evokes a sense of wonder and romance. Watch as the rose radiates its beauty and illuminates the surroundings with a magical glow.

🌟 "Beauty and the Beast" is the perfect gift for any occasion that calls for a touch of enchantment and a declaration of love. Whether you're celebrating an anniversary, expressing your affection on Valentine's Day, or simply surprising your special someone with a heartfelt gesture, this one-of-a-kind arrangement will leave them spellbound.

💖 With its timeless appeal and exquisite design, "Beauty and the Beast" serves as a powerful symbol of love and devotion. It is a testament to the magic of true love and the transformative power it holds. Gift it to your significant other, and watch as their eyes light up with joy and admiration for this extraordinary token of your affection.

💌 Don't miss the opportunity to infuse your love story with a touch of enchantment. Order "Beauty and the Beast" today and embark on a journey that transcends time and captures the essence of true love. Let the LED-lit rose and the glass encasing weave their magic, creating moments that will be cherished forever.

🌹💫 Unveil the magic of "Beauty and the Beast" and let your love story unfold in a realm where fairy tales come to life. Order your very own "Beauty and the Beast" arrangement now and be part of a love story that will be remembered for generations to come. Your enchanting journey awaits!
Package Dimensions:

Width: 5 inches
Height: 9 inches
Weight: 1 pound
Product Care

Do's:
* Keep Away from Direct Sunlight
* Store Properly
* Gently Clean
* Rotate Display (If On Display)

Don'ts:
* Avoid Water
* Don't Bend or Fold
* Stay Away from Extreme Temperatures
* Avoid Harsh Chemicals
* Don't Pull Petals